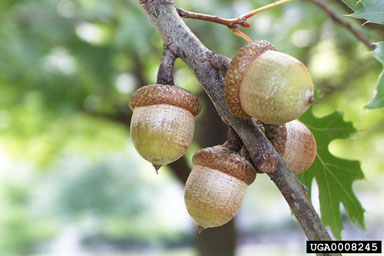 Northern Red Oak Nuts
Paul Wray, Iowa State University
www.forestryimages.org
About This Website
The collection of on-line resources at this site will introduce you to principles and practices of forest farming. This material is organized into the seven topical units that are listed below. You may use these learning resources independently of an organized class simply by browsing first, and then examining in more detail the subject-matter that you find to be of interest.
This resource center is intended primarily for use through organized on-line courses that are facilitated by natural resource educators. As a participant in a forest farming course you will be encouraged through an on-line course management system to proceed through the material at this site at a measured pace. You will be encouraged to participate in on-line discussions as well as forest-based activities along the way.
About the Learning Units
The resource units are comprised of different combinations of web text and images, video clips, power point presentations, text files (PDF), and links to other on-line information sources.
To learn how to use the resource units, or if you are just starting out, go to the How-To section of the site.