Types of Markets
What Markets Are Out There?
There are a number of market options out there and it is important to understand the pros and cons that are associated with each before you commit yourself and your family to a market. Knowing what kind of market will work best for you is important because each NTFC behaves differently in each market type. Following is a brief overview of the various markets available to you as an NTFC producer. While reviewing this information, reflect on your own goals and consider which of these markets is most likely to help you reach them.
Jim Ochterski in his publication Marketing Special Forest Products in New York State helps answer this question by providing examples from research that he conducted with forest owners and entrepreneurs in 2004-2005. We highlight some of these below, and encourage you to consult this useful document to learn about other possibilities.
Maple syrup and maple products: gift shops, wholesale, and grocery stores
Ginseng: colleges or universities with Asian students, farmerís markets, health food stores, and local agricultural festivals
Berries: chefs, small scale food processors, and retail customers
Nuts: chefs, small scale food processors, and retail customers
Mushrooms: grocery stores, smaller fresh produce stores, ethnic markets, and farmerís markets
Niche vs. Traditional Markets
An important aspect of developing your agroforestry business is to determine what type of commodity you plan on selling. The two main choices include producing a product to fill a niche or unique market, or producing a more traditional product.
Developing a unique product translates to less competition and therefore higher, more sustainable rewards. However, as more producers enter niche markets, your product may become more mainstream. This eventually translates to lower rewards. Therefore, it is strategic for you, as an agroforestry business owner, to continue to find and fill niche markets . It should be your goal to find and create innovative products.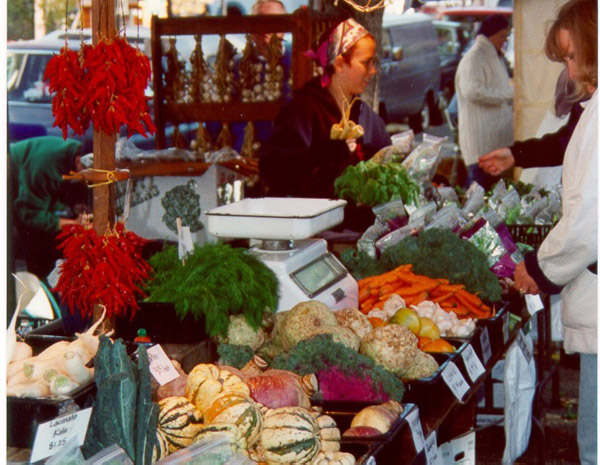 Farmerís Market Stand:
www.wfbf.com
Seasonal vs. Year Round Markets
Production of seasonal specialty forest products has the advantage of providing higher income during the season in which the product is readily available. However, as a producer of a seasonal product, you will need to plan how to make that income last throughout the year so that you can continue to support your business. Production of seasonal products such as fruit, maple syrup, and nuts can also increase the price volatility of that product. Additionally, you need to consider the time constraints of a production intense season. Do you have the flexibility to devote a large amount of time to your agroforestry business during the production season?
Production of a year-round product such as decoratives, flavorings, and weaving materials has several advantages. First, this type of product market has demand year-round, thereby providing income throughout the year. Additionally, with year-round products, you may be able to avoid a ďbusyĒ season which increases demands on your time during that season. Instead, you can establish a steady production system.
Value Added vs. Raw Material Markets
The markets and demands for raw and value added materials vary substantially.
Selling a value-added forest product has several advantages:
You can charge a higher price for these products,
Only small volumes of the product are necessary in order to have something to sell.
You can enter multiple markets,
These types of products typically have a greater appeal to customers.
Before you decide to produce a value-added product, however, you need to consider a few additional factors:
Devoting more of your time and your effort to producing the product. This translates to higher production costs, and often heavier investments in production infrastructure.
Making sure that you can obtain the raw ingredients necessary to produce the product, that you have sufficient labor capabilities to keep up with demand and that you are able to ensure a consistent quality of product.
Increasing your marketing and advertising to ensure that you are able to effectively reach all of your direct, producer to consumer markets.
Selling raw products also has advantages:
You can reduce the time and effort necessary to produce your product for sale.
Often you will not need to make the same significant investments in labor or infrastructure as with value-added processing
Typically you will have fewer buyers, thus significantly reducing your overall marketing and advertising budget
Wholesale sales provide a reliable outlet and the least amount of effort.
Other factors to consider in selling raw product are:
You need to identify a wholesaler or buyer for this product,
You typically will garner a lower price for the product,
You will need to produce a larger volume of the product for sale,
You will need to adhere to stringent quality standards as well as reliable quantities,
You may be required to sign a contractual agreement, which can provide you with stability, but can also reduce your flexibility in marketing to other customers.