How do I get my product out there?
Important consideration when preparing to market your product include required licenses, state and federal regulations, packaging, labeling, promotion and commercialization.
Regulations
What regulations will I need to follow?
Licenses and regulations will vary according to your product. If your NTFC is a food product, begin your research with the US Food and Drug Administration website. The production of jams, jellies, and preserves, for instance, is regulated by Title 21, Volume 2 of the Code of Federal Regulations. This information is easily obtained through their website and provides a detailed outline of required production procedures such as proper ingredients, food handling, and packaging.
In addition to federal regulations each state also has its own set of regulations. For example, the Food Safety and Inspection Division of the New York Department of Agriculture and Markets regulates the manufacture, distribution and sale of maple sugar and syrup under Article 17. Regulations included in Article 17 address such things as packaging, standards of grading, and purity requirements. Under 276.1 of the New York state regulations all food product processors are required to abide by the requirements of the good manufacturing practices. If a processor does not purchase maple syrup or honey from other producers and repackage the product nor does he/she add other substances to the maple syrup or honey, an exemption from section 276.1 may be granted. Exemption from section 276.1 also requires that a number of specified conditions be met.
There are also a number of regulations for the propagation and sale of certain medicinals, particularly those plants which are considered to be vulnerable such as ginseng and goldenseal. Special care should be taken when dealing with these medicinals to ensure that you are abiding by the federal regulations designed to prevent over harvesting.
One of the most important acts to affect the collection and sale of ginseng and goldenseal was the 1982 "Wild Resources Conservation Act". Under this act, Pennsylvania's Department of Environmental Resources was required to identify and regulate threatened, endangered and vulnerable plant species. Those species that were identified as vulnerable include goldenseal, ginseng, and yellow lady-slipper orchid. Before buying, trading or bartering these species in Pennsylvania, one must obtain a vulnerable species license. Below you will find an example of the "Vulnerable Plant Commercial License".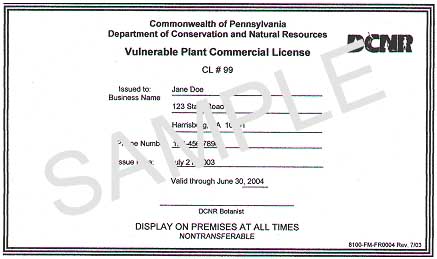 Vulnerable Plant Commercial License
Both ginseng and goldenseal are regulated in the Convention on International Trade in Endangered Species (CITES) by the US Fish and Wildlife Service (USFWS). According to the USFWS, goldenseal sales need only be recorded in the event of international trade. All goldenseal sales within the US are not subject to these requirements. On the other hand, ginseng regulations are much more stringent. According to USFWS, ginseng must be no less than five years of age before it can be exported in addition to a number of other guidelines that must be followed when trading with ginseng.